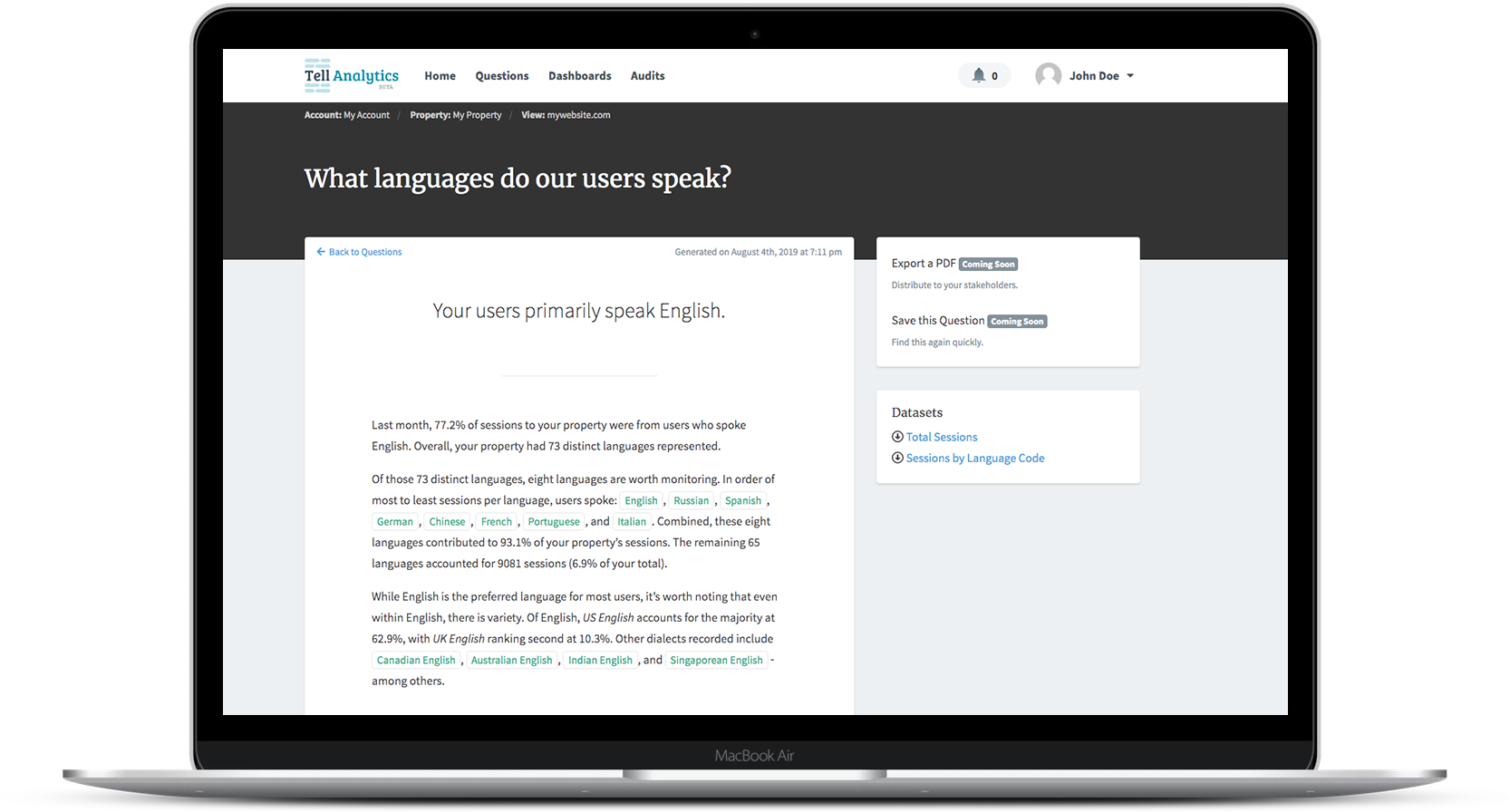 Instant & Transparent.
Do more with the data you already have.
Tell Analytics provides straightforward answers to your questions — free of jargon, superfluous visualizations, and needless complexity — so you can focus on outcomes.
---
Like hiring a team of analysts.
Get every ounce of value out of the data you already have. Whether Tell Analytics helps you make your first data-driven decision, or enables your analysts and marketers to focus on more important tasks, you'll save time and make better use of your data.
---
Democratize insights, not data.
Built with teams in mind, Tell Analytics enables the sharing of text rather than charts and tables. Distribute access to analysts and executives a-like, and keep people from gleaning the wrong insights from Google Analytics.
---
Increased trust and repeatability.
Same analysis, different outcomes? Tell Analytics has a programatic approach to answering questions, ensuring the same steps are taken every time you ask the question; steps that are vetted against dozens of datasets for rock solid output.
---
Learn from more than your data.
Your data is just the beginning. Data has context, and that context exists in a variety of sources that we include in answers when relevant. We'll comb the blogs and do the research, and integrate it to offer the right context at the right time.
+
Part Software, Part Service
Your partner in data-driven decisions.
Our product grows with you. Custom questions? No problem. We'll chat with you to fully understand your use case and give you the same written, shareable, and repeatable answers for questions specific to your business.
Core Features
Our features, intentionally sequenced.